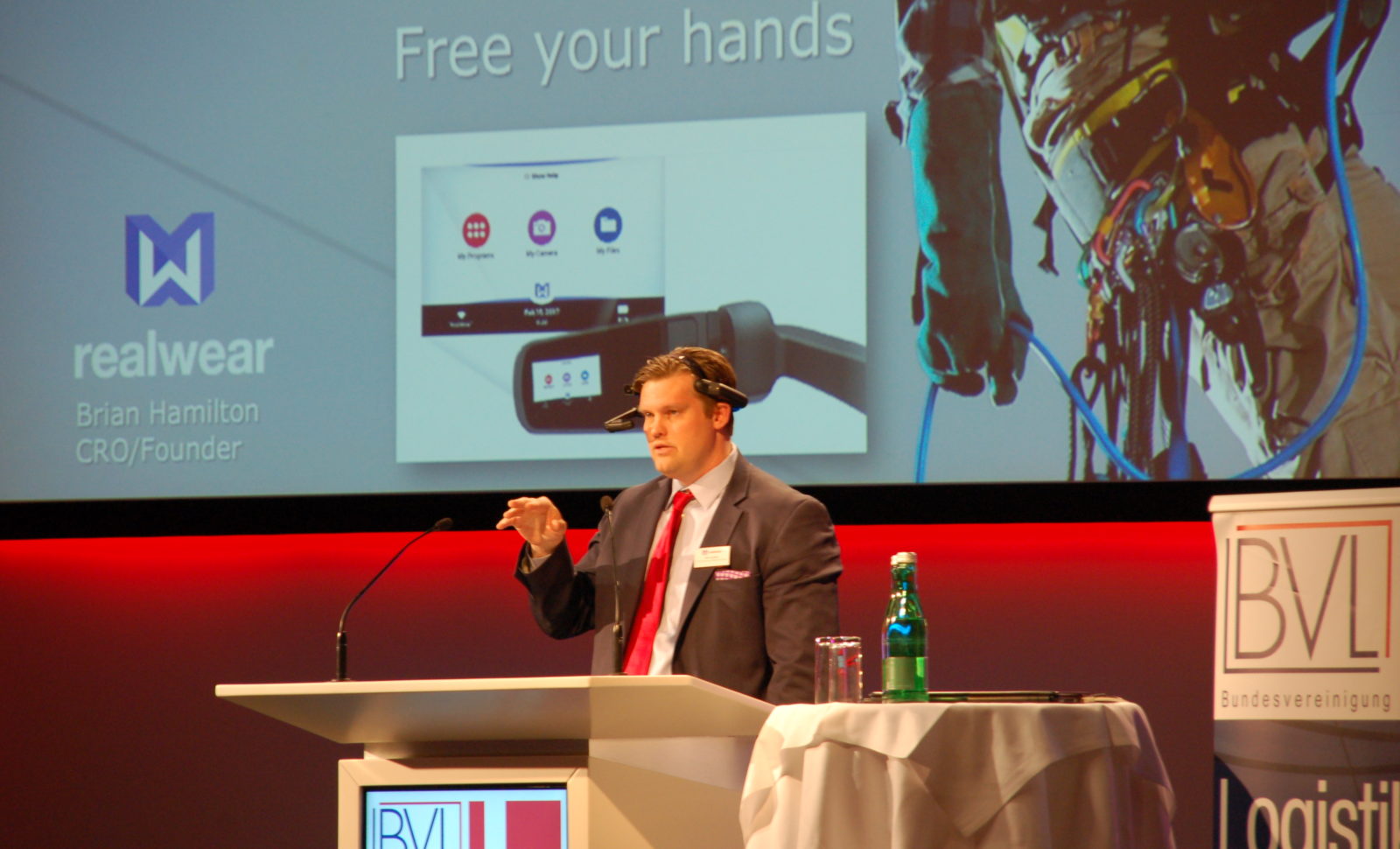 RealWear's Head Mounted Tablet (HMT-1) debuted for the first time from 6th to 7th April 2017 as part of the BVL Logistics Dialogue presented to the public in the German-speaking countries and met with immediate interest. Brian Hamilton, co-founder and CRO (Chief Revenue Officer) of RealWear personally presented the world's first to the interested public.
Together with BARCOTEC, RealWear developed the HMT-1 primarily for mobile workers, field, maintenance and service specialists, as well as for the handling of complex manufacturing and logistics processes. The device is controlled freehand by voice. Android as a platform not only enables easy data and app management via drag & drop, but also resource-saving and diverse application development options.
The data is displayed via a micro-display integrated in the headset, and the integrated scanner in the camera helps to collect the data. The HMT-1 is completely power-autonomous, and the integrated battery can easily last a full working shift when fully wireless.
Already today companies worldwide in the field of oil / gas, aviation / national defense / security, retail / logistics / transport, power supply / maintenance and health care are testing the first devices. Primary application fields are:
View worksheets and plans ("Document Navigator")

Remote support of the employees at the place of action ("Remote Mentor")

IoT Data Visualization ("Industry 4.0 Analytics Data")

Fill forms via voice ("Mobile Forms")

Safely execute work instructions ("Work Instructions")
Alexander Rainsberger, Managing Director of European distributor BARCOTEC, commented: "The first industrial product that bridges the gap between true mobility and the nature of mankind."
Report "Industriemagazin" (in German): https://industriemagazin.at/a/europa-premiere-head-mounted-tablet-hmt-1-von-realwear
Report "Logistik Express" (in German): https://www.logistik-express.com/europapremiere-des-head-mounted-tablets-barcotec-launcht-neue-dimension-des-mobilen-arbeitens/
Report "Dispo Magazin" (in German): https://dispo.cc/a/europapremiere-des-head-mounted-tablets