Spare Battery
The Spare Battery is an extra 3250mAh lithium ion battery for the HMT-1 and part of the standard scope of delivery.
The HMT-1 has a hot-swappable function, with which one can swap the battery during operation without having to switch off the device.
Spare batteries are available separately or as a 6-pack.
6 Battery Multi Charger
The Multi-Charger simultaneously charges 6 HMT-1 batteries. Multi-chargers display the charge level of each battery. Each Multi-Charger ships with all 5 regional power adapters:
Wall Charger and Type C USB-Cable and microUSB Adapter
The Battery Wall Charger, the USB-C cable and the small adapter for microUSB are part of the standard scope of delivery. We usually ship the European Wall Charger, if you need another one, please contact us before ordering.
The Battery Wall chargers are sold separately for the USA, China, UK, Australia and the EU.
International Power Adapter
With the international power adapter you can charge up to 6 HMT-1 at the same time, in 150 countries.
Charging Cable for HMT-1Z1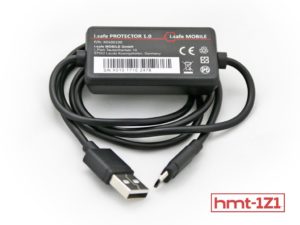 This charging cable is not certified for the intrinsically safe area.
Please note that the HMT-1Z1 loses it's certification for the ATEX zone if it is charged with another charging cable.